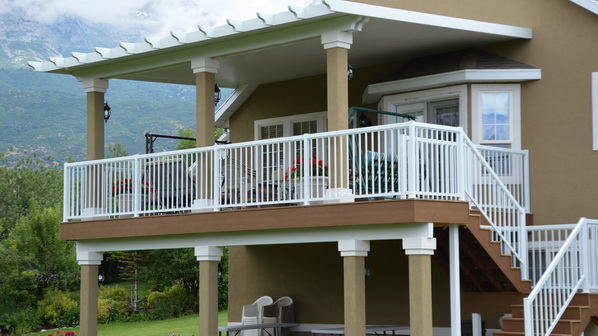 Aluminum railings offer numerous advantages over wood or steel railing systems. It will never split, warp, rot or rust due to rain, ice, sun or other elements. Our railing is fabricated with no exposed fasteners to ensure a professional and sleek appearance and has a baked on enamel finish which comes in several colors. The benefits of a baked enamel paint finish include resistance to chipping and cracking but the best advantage to a baked enamel finish is its durability and maintenance-free properties. It is easy to clean and maintains its color.
If you want a strong railing system that will look good for years from now with no upkeep, then aluminum railing is the perfect choice.
Call Boyd's Custom Patios, the expert contractor, and let our staff install your home or business aluminum railing today!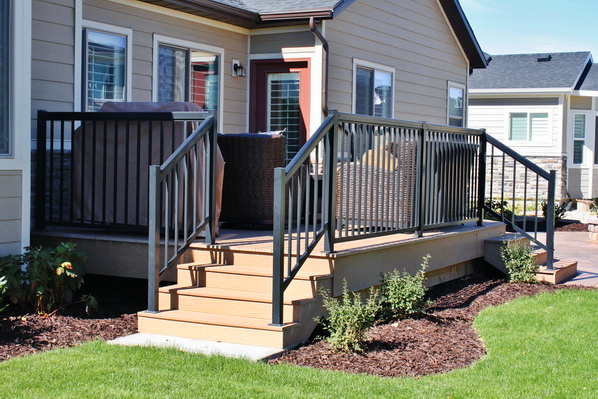 Color Options: Bronze, Taupe, Tan, White and Black





"Start to finish we were on fast track to success with our Custom patio Boyd's created with us for our home. On the road to a successful completed project we (of course) had speed bumps, a few break downs, needed to fine tune the engine and change oil a few times.. But during the entire race to beat the ever changing weather mother nature throws at us from time to time Boyd's stepped up to the challenge ready to get project completed. We never felt short changed or if there were questions, concerns, anything that was asked Boyd's made the lane…"
― Holli Harding
"Our attached custom patio cover with a stamped cement patio were recently completed, and it turned out wonderful. It has created such a beautiful and comfortable space for our large family to gather. We absolutely love it! It's the best investment we have made in our home in years. One thing I especially appreciated was as the various teams came to our home to do their part of the project, they would discuss their plans with me. And where we had special needs, they were very willing to make changes. Whenever I called the office with a…"
― Paul Patane
"We needed a small job done. Specifically I needed the posts for my deck stairs replaced, and stucco'd along with some minor stucco work along my existing deck. Boyd's Custom Patios stated that they specialize in small jobs and had the work done incredibly fast, and incredibly low cost. They told me that they sometimes struggle with larger jobs, but that they specialize in smaller jobs and prefer those as much as possible. I wouldn't hesitate to recommend them to those who need minor deck repairs."
― Troy Emery
"Absolutely fabulous company. Randy Boyd and his sons were amazing to work with. Randy kept in contact with us constantly to let us know the work schedule. We also were thrilled with the cement guy and the electrician. They were all very nice and incredibly professional. We are very pleased with the quality of the patio. They built us a covered patio that was 18' x 32', complete with lights, stamped concrete, pillars, and fans. They worked with us to customize our dream patio. They finished everything on time and even came back to make sure…"
― Kristen Colton
"Boyd's Custom Patio did a deck and a patio for us. We started early spring and it was completed before summer. It all turned out so beautiful! We are very happy with the work that was done, and with the friendly and professional staff that assisted along the way. Any fixes, or minor issues we had addressed were taken care of with no problems at all. We have had so many compliments on our deck and patio. Our patio is on the side of our house so it is noticed by people driving and walking by. We had some neighbors we had not met come to our…"
― Janice Dotson
"I had a great experience with Boyd's Custom Patios. First off I had almost every awning company in the SLC valley give me a quote to make sure I was getting the right company for me. Bret came by to give me my quote. I was impressed when I told him what I was looking for and he knew exactly what I needed to do to get it done. One thing he did that the other companies did not do was text me pictures of awnings and car ports they have done with the exact color and different types of posts I was looking for so I knew exactly what I was getting…"
― Barry Webster
"We just had Boyd s Custom Patios build a 12x20 lattice cover with matching stucco columns off the back of our home. The crews that installed our project we re professional, organized, and very nice. We couldn t be happier with the way things turned out. We d be happy to recommend Boyd s Custom Patios to anyone looking for a custom patio cover and enjoyable experience."
― Phil Baker
Read more reviews on