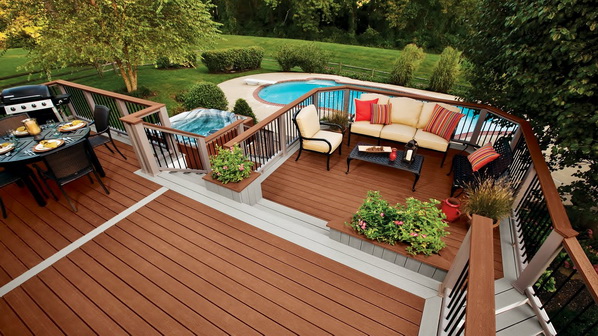 Composite decking is meeting the needs of today's busy homeowner with its low maintenance and high durability. Made from a unique combination of reclaimed wood and plastic, composite decking gives you the best qualities of both materials. The plastic shields the wood from moisture and insect damage, preventing rotting or splintering. The wood protects the plastic from UV damage and gives your deck a solid, natural feel. Your deck will look great year after year and you won't need to spend hours staining or repairing it.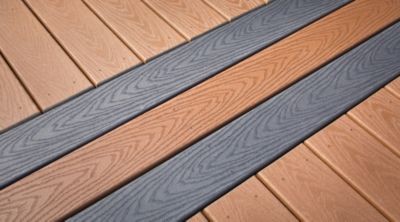 Unlike wood surfaces, composites:
will not rot or deteriorate due to wet weather, making them perfect for pools, hot tubs, spas and residential dock applications
are backed by a fully transferable, multi-year limited warranty against splitting, rotting, decay and termite damage
require no painting, sealing or staining
are available in many finishes including smooth, streaked and wood grain
are available in many colors, opening up limitless possibilities in the design and overall feel of the deck
are splinter-free and contain no toxic chemicals or preservatives, a great feature if you have kids and pets
have excellent traction, even when wet
Call Boyd's Custom Patios, the expert contractor, and let our staff install your home's composite patio deck today!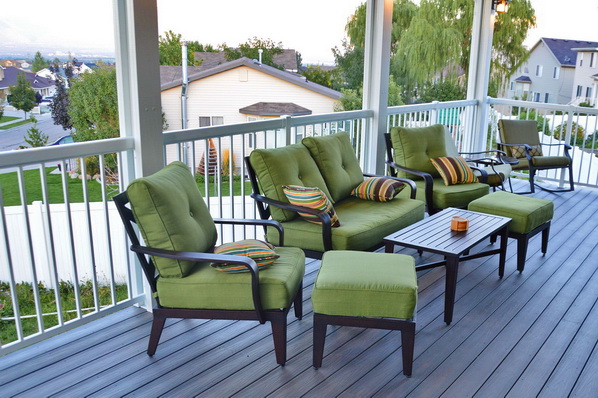 "Start to finish we were on fast track to success with our Custom patio Boyd's created with us for our home. On the road to a successful completed project we (of course) had speed bumps, a few break downs, needed to fine tune the engine and change oil a few times.. But during the entire race to beat the ever changing weather mother nature throws at us from time to time Boyd's stepped up to the challenge ready to get project completed. We never felt short changed or if there were questions, concerns, anything that was asked Boyd's made the lane…"
― Holli Harding
"Our new awning is beautiful, durable and high quality construction. It definitely improves our home's value. The workers were friendly and efficient. We will definitely use Boyd 's Custom Patios for any future deck or awning needs."
― Marcia Bruner
"Absolutely fabulous company. Randy Boyd and his sons were amazing to work with. Randy kept in contact with us constantly to let us know the work schedule. We also were thrilled with the cement guy and the electrician. They were all very nice and incredibly professional. We are very pleased with the quality of the patio. They built us a covered patio that was 18' x 32', complete with lights, stamped concrete, pillars, and fans. They worked with us to customize our dream patio. They finished everything on time and even came back to make sure…"
― Kristen Colton
"I thought about leaving 4 stars simply because the project did drag out a little bit, there were some issues communicating towards the end and getting it wrapped up. At the end of the day, this awning is so awesome the other things don't matter. And being in construction myself I understand how weather and other factors can delay a project. This awning is beautiful and has completely changed the dynamic of our yard and home. And, the price was better than all the other quotes we were given, even though Boyd's were the only ones to price the…"
― Kevin Quayle
"DIY can be a gratifying endeavor, but coming home to a well crafted feature, built by Boyd's is a wonderful thing. We are extremely pleased with the Pergola they built for our family. We started down this path, knowing we needed a shade structure to complete an outdoor kitchen area we recently completed. Getting protection from the west facing sun was a must. In researching the options, I considered DIY and also met with 6 separate companies. Boyd's Custom Patios handily ticked all the boxes for us and rose to the top pick. Experience…"
― michael lott
"Smooth process to get a great patio cover. We are very happy with the quality. Having the new patio cover transformed the outside and inside of our house!"
― Jamin Cannon
"The estimate process was very quick. We had Boyds pour a slab of concrete which they did a good job on. Other estimates for the concrete were absurdly high in comparison. The cover itself looks great it really does look as though it was built with the house. It is pricey but compared to other estimates the price difference was minimal. At first they were difficult to get in contact with but other than that the process has been good overall."
― Mark Richardson
Read more reviews on