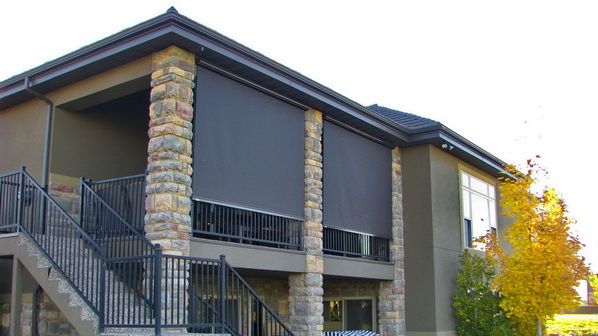 At Boyd's Custom Patios we offer a solution for all of your retractable shading needs. Whether you're trying to make your patio area more usable or solving a problem created by sun exposure through your home's windows we can design the perfect system for you. We have been designing retractable sun screens for doors, windows and outdoor living areas for over 30 years. Each shade is custom built for each situation. We offer a full range of sunscreen products for any budget, no project is too large or too small. Contact our shade experts today and see how we can help solve your sun problem. Window Sun Shades for exterior use are more energy efficient because they block the sun's rays before they have a chance to enter the home and convert to heat, which can save on air conditioning costs. Designed to reduce heat transfer, these solar sunscreen fabrics also control blinding glare and reduce fading of carpet and furniture in the home.
Call Boyd's Custom Patios, the expert contractor, and let our staff install your home's sunscreens today!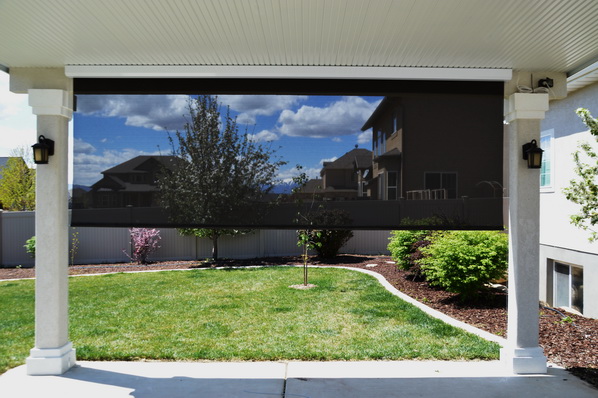 Key Benefits
Keeps energy bills low.
Allows some sunlight into the room.
Focuses on your outdoor view.
Removes annoying glare from the sun.
Protects furniture, rugs and other belongings from harmful UV rays.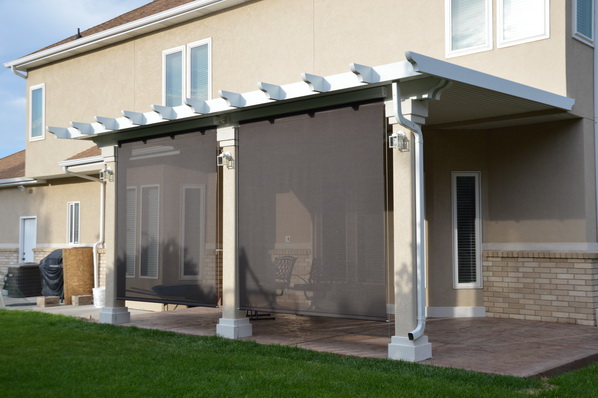 "Absolutely fabulous company. Randy Boyd and his sons were amazing to work with. Randy kept in contact with us constantly to let us know the work schedule. We also were thrilled with the cement guy and the electrician. They were all very nice and incredibly professional. We are very pleased with the quality of the patio. They built us a covered patio that was 18' x 32', complete with lights, stamped concrete, pillars, and fans. They worked with us to customize our dream patio. They finished everything on time and even came back to make sure…"
― Kristen Colton
"I couldn t be more happy with how my patio turned out! It all started with a great consultation with Brett who carefully listened to my situation and what I was hoping to achieve and what look I wanted as well as functionality. He explained to me other options to consider and had plenty of pictures to show. I ended up taking his advice and going with a few other options. Everyone who came to work on this project was very courteous and pleasant to work with and their experience and expertise in their quality of work was superb. I have a patio that…"
― Rod Palmer
"DIY can be a gratifying endeavor, but coming home to a well crafted feature, built by Boyd's is a wonderful thing. We are extremely pleased with the Pergola they built for our family. We started down this path, knowing we needed a shade structure to complete an outdoor kitchen area we recently completed. Getting protection from the west facing sun was a must. In researching the options, I considered DIY and also met with 6 separate companies. Boyd's Custom Patios handily ticked all the boxes for us and rose to the top pick. Experience…"
― michael lott
"Our new awning is beautiful, durable and high quality construction. It definitely improves our home's value. The workers were friendly and efficient. We will definitely use Boyd 's Custom Patios for any future deck or awning needs."
― Marcia Bruner
"We love our Boyd's custom patio! It's extremely good looking, has lots of detail, zero maintenance, will last a lifetime, and was affordable vs. the competition especially when you add upgrades. Although schedule and timeline are not their primary strengths, end results matter and that's where it counts."
― Brandon R
"Boyd s Custom Patios was extremely easy to work with and very organized and timely. They gave me great ideas to make my patio look amazing. At first, I thought the material would look cheap (like white vinyl), but once I saw it in-person I was floored how good the product looked. It looked anything but cheap!!! I am completely in love with my patio and working with Boyd s."
― Ben Buck
"Bret was fantastic to work with. Was on time for the estimate, sent it to me in a timely manner, and was even able to get my project started at an earlier date than expected. Beautiful, well done deck. Would highly recommend."
― Nanny McKenzie
Read more reviews on