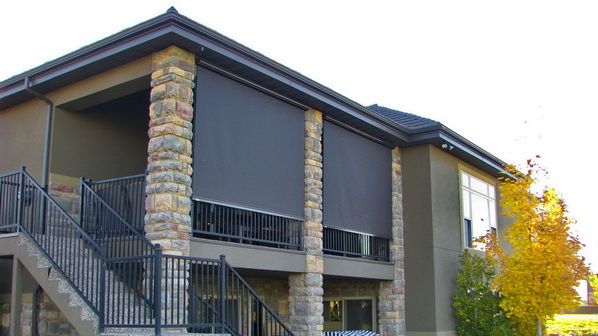 Boyd's Custom Patios has a solution for all of your retractable shading needs. Whether you're trying to make your patio area more usable or solving a problem created by sun exposure thru your homes windows we can design the perfect system for you. We have been designing retractable sun screens for doors, windows and outdoor living areas for over 30 years. Each shade is custom built for each situation. We offer a full range of sunscreen products for any budget, no project is too large or too small. Contact our shade experts today and see how we can help solve your sun problem. Window Sun Shades for exterior use are more energy efficient because they block the sun's rays before they have a chance to enter the home and convert to heat, which can save in air conditioning costs. Designed to reduce heat transfer, these solar sunscreen fabrics also control blinding glare and reduce fading of carpet and furniture in the home.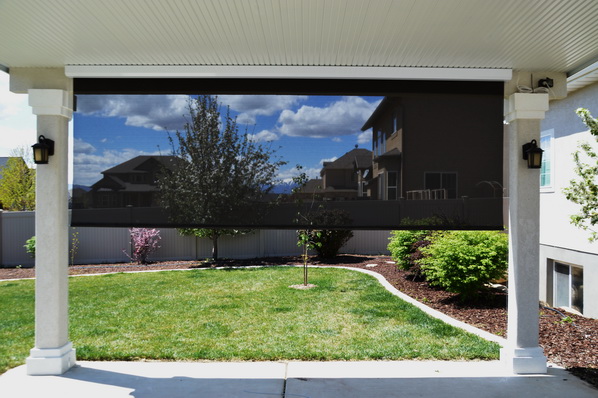 Key Benefits
Keeps energy bills low.
Allows some sunlight into the room.
Focuses on your outdoor view.
Removes annoying glare from the sun.
Protects furniture, rugs and other belongings from harmful UV rays.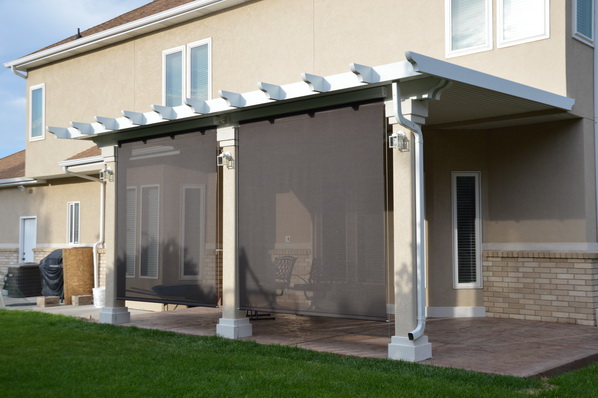 "Bret was fantastic to work with. Was on time for the estimate, sent it to me in a timely manner, and was even able to get my project started at an earlier date than expected. Beautiful, well done deck. Would highly recommend."
― Nanny McKenzie
"We love our Boyd's custom patio! It's extremely good looking, has lots of detail, zero maintenance, will last a lifetime, and was affordable vs. the competition especially when you add upgrades. Although schedule and timeline are not their primary strengths, end results matter and that's where it counts."
― Brandon R
"We just had Boyd s Custom Patios build a 12x20 lattice cover with matching stucco columns off the back of our home. The crews that installed our project we re professional, organized, and very nice. We couldn t be happier with the way things turned out. We d be happy to recommend Boyd s Custom Patios to anyone looking for a custom patio cover and enjoyable experience."
― Phil Baker
"We couldn t be more happy! Our project turned out absolutely perfect! I can t say enough wonderful things about this company! Randy and his team were a pleasure to work with and it was done so quickly! Thank you so much for our new deck cover!!"
― Jackie Hooten
"It was good working with the folks at Boyd s custom patio very knowledgeable and professional. My patio is amazing! I want to live outside in my backyard on the patio 24/7. I have no regrets about this project and now I love the time spent with friends and family in our new outdoor room!"
― David Bretey
"3/7/2018 Love our new custom patio covering from Boyd's Custom Patios. They are great to work with, the customer service is great and their construction crews are hard workers and efficient. They were very attentive to any concerns that we had. The best part was that our patio covering looks like it was made with our house. Definitely recommended!"
― Jennifer M
"Great experience working with Bret and team. We did a very basic patio cover at our old house and after getting a few quotes we decided to use Bret again at our current house. Bret gave us ideas on what would work best with our space and we decided on a final option. We worked with his awning, deck, and stucco teams. Very impressed with all of them and their attention to detail. Would highly recommend Boyd custom patios to anyone."
― Blake Tingey
Read more reviews on