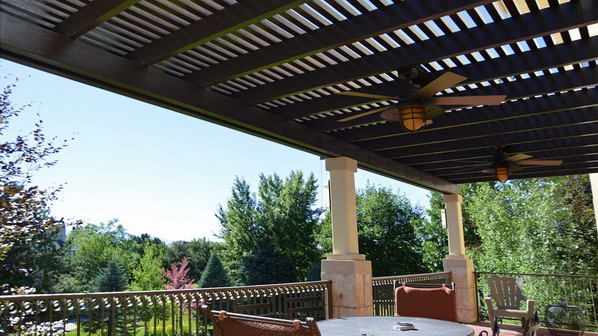 Open lattice style patio covers can add a beautiful enhancement to your home & create a wonderful shade and comfort area to any patio shape and size. Made of maintenance free aluminum they offer the perfect solution for people who don't want a solid roof but want shade. To find out more and discuss what options are available for you and your home, call Boyd's Custom Patios, the expert contractor, and let our staff start designing your home's lattice covers and pergolas today!.
Options
StuccoTrim for Columns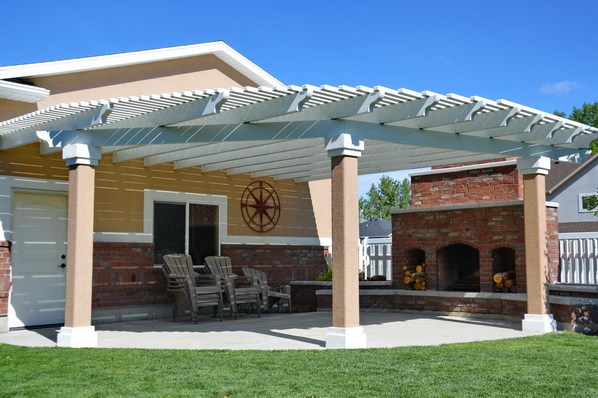 Pre Cast Tapered Columns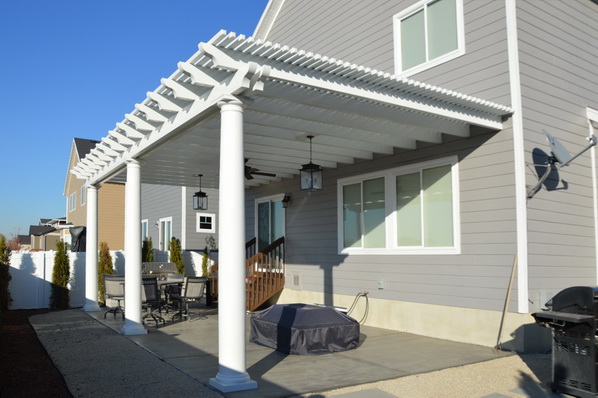 L.E.D. Lighting
"Boyd's Custom Patio did a deck and a patio for us. We started early spring and it was completed before summer. It all turned out so beautiful! We are very happy with the work that was done, and with the friendly and professional staff that assisted along the way. Any fixes, or minor issues we had addressed were taken care of with no problems at all. We have had so many compliments on our deck and patio. Our patio is on the side of our house so it is noticed by people driving and walking by. We had some neighbors we had not met come to our…"
― Janice Dotson
"Our new awning is beautiful, durable and high quality construction. It definitely improves our home's value. The workers were friendly and efficient. We will definitely use Boyd 's Custom Patios for any future deck or awning needs."
― Marcia Bruner
"The personnel at Boyd's custom awnings were informative and professional. The contract personnel that built my carport did an excellent job. I would recommend them to all individuals that are looking to get a professional job done. The workers were very courteous and did all they could to make sure I was pleased with the completion of the work performed. I would definitely hire them again. I cannot remember the last time I was so pleased with a company as I am with Boyd's Custom awnings. The work was done in a timely manner and very professional."
― Fred Thibodeaux
"We needed a small job done. Specifically I needed the posts for my deck stairs replaced, and stucco'd along with some minor stucco work along my existing deck. Boyd's Custom Patios stated that they specialize in small jobs and had the work done incredibly fast, and incredibly low cost. They told me that they sometimes struggle with larger jobs, but that they specialize in smaller jobs and prefer those as much as possible. I wouldn't hesitate to recommend them to those who need minor deck repairs."
― Troy Emery
"Start to finish we were on fast track to success with our Custom patio Boyd's created with us for our home. On the road to a successful completed project we (of course) had speed bumps, a few break downs, needed to fine tune the engine and change oil a few times.. But during the entire race to beat the ever changing weather mother nature throws at us from time to time Boyd's stepped up to the challenge ready to get project completed. We never felt short changed or if there were questions, concerns, anything that was asked Boyd's made the lane…"
― Holli Harding
"I thought about leaving 4 stars simply because the project did drag out a little bit, there were some issues communicating towards the end and getting it wrapped up. At the end of the day, this awning is so awesome the other things don't matter. And being in construction myself I understand how weather and other factors can delay a project. This awning is beautiful and has completely changed the dynamic of our yard and home. And, the price was better than all the other quotes we were given, even though Boyd's were the only ones to price the…"
― Kevin Quayle
"Our covered deck turned out great. We got a bunch of bids before choosing Boyd's. They offered a lot more choices and ways to upgrade the look but were still in the ballpark of the others. I couldn't be happier with how it turned out. The guys who installed were great. They made sure we were happy with how the awning and railing lined up with the deck and they didn't leave a mess when they were done. The pictures don't do it justice. Thanks Boyds!"
― Jackson
Read more reviews on